Welcome back to my blog my beauties! As you can tell from the title, I will be discussing some moments from this year's Oscars that deserve more recognition, including those from the red carpet. I know the Oscars were held about a week ago, and I'm late to the game, but I've done my research very thoroughly and actually watched the whole thing from start to finish for this post, so enjoy!
Hostless Event
After the whole Kevin Hart fiasco, the Academy failed to find a replacement. In my opinion, this worked out in their favour, because I enjoyed the ceremony more than the previous years. As a result, the emphasis was specifically on the winners and the nominees. Despite the mad props for Maya Rudolph, Tina Fey and Amy Poehler and they usual banter, this year's show was a clear indication that the Oscars should go hostless from this year onwards.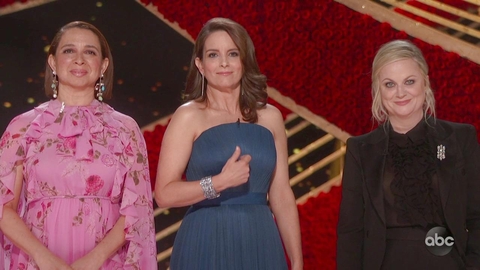 Olivia Colman's Surprising Win
Her Golden Globes speech may have been lovely and endearing, but her Oscars speech was something else. Glenn Close was the favourite to take home the Best Actress award for The Wife. Colman was as surprised as everyone else was, and is the first Oscar winner to apologize to Glenn Close and blow a raspberry in the same speech. A true queen.
if you haven't seen her performance on TV shows Broadchurch and The Night Manager, you should go watch then NOW!
Spike Lee's Win
Everything about this moment was iconic: Samuel L Jackson's cheeky joke about Lee's favourite team The Knicks ending their 18-game home losing streak, his frustration about the fact that Lee never got the Oscar he so deserved (He won an honorary award in 2015 but that doesn't count)… And Jackson's joy and emotion when he read the winners were priceless, followed by Spike Lee literally leaping into his friend's arms (I laughed).
Anyways, his speech was basically a passionate story about his family and how they went from slavery to the Oscars within four generations and ended the speech talking about the next presidential election, urging the public to "Do the right thing!"
Interesting fact: Samuel L Jackson shouting "Oh the House!" before announcing the winner is a reference to the Moorhouse College, which he attended with Spike Lee.
Wayne's World
This calls for nostalgia! Mike Myers and Dana Carvey introducing the Best Picture montage for Bohemian Rhapsody was hilarious, and I loved it. They recited the old catchphrases from the movie and also paid tribute not only to Freddie Mercury, but also Brian May and Roger Taylor, who were present in the audience.
Black Panther Historic Wins
When it comes to design, there's no arguing that Marvel movies take the cake. But this movie was slightly different from the others. With a cast primarily composed of African-American cast and crew, the creative team built Wakanda from scratch, drawing on African influences whilst also creating something new.
Costume designer Ruth E Carter and production designer Hannah Beachler (and her outfit?! SLAYING!) earned respective wins for their categories and were the first black women ever to do so. WOW!
Whilst Carter's speech was primarily dedicated to her biggest heroes – her family and Spike Lee for giving her start, Beachler's speech was what got to me. I'm thinking of getting "I did my best, and my best is good enough" tattooed because that quote really got to me.
Black Panther also won Best Original Score.
The Spider-verse
The visual aesthetic behind the whole movie was just incredible. I'd watched the movie just a day after the Oscars because I'd wanted to see it for a while but never had the chance to. And I can honestly say, the award was very well-deserved. The animated movie offered a whole new meaning to being a superhero, with an Afro-Latino protagonist.
As co-writer Phil Lord said in his speech, "When we hear that somebody's kid was watching the movie and turned to them and said, 'He looks like me,' or 'They speak Spanish like us' … We feel like we already won."
Period. End of Sentence
YES! YES! YES! A film about something so normal yet so taboo won a freaking OSCAR!!!! A film which began as an effort by a student to fund sanitary pads for girls in developing countries, it had women talking. Producer Melissa Berton summed it up in one sentence (which also happens to be the tagline for the documentary: "A period should end a sentence, not a girl's education."
Chris 'Chivalrous' Evans
When Regina King rose from her seat to accept her Best Supporting Actress award, her dress somehow got tangled with her shoe. Thank the gods for Captain America himself who was sitting next to her (btw that would be Chris Evans for you non-Marvelese) who leapt on his feet to offer a hand to prevent King from tripping (much like J-Law did in 2013). He did the same thing at the People's Choice Awards with the ever-iconic Betty White back in 2015.
Ladies, get yourselves a Chris Evans.
Key pulled a Poppins
To introduce The Best Song nominee The Place Where Lost Things Go from Marry Poppins Returns, Keegan-Michael Key gracefully descended from the heavens with an umbrella, much like Poppins does in the movie.
… and now onto some great red carpet moments that deserve some mad props…
Alfonso Cuaron's Unlikely Photobombers
This moment was so sweet and short I just had to include it on this list, because I saw only one source who covered it. While the eventual Oscar winner Alfonso Cuaron was being interviewed on the Red Carpet, his children can be seen in the background pulling funny faces at the camera, unbeknownst to their dad!
Billy Porter
Billy Porter, serving looks since 2014. The fashion and poise that Porter served were from the gods, all the gods, with this iconic tuxedo dress. Many criticised this look because you know, it's a man wearing a dress and/or a man dressed in everything that isn't a standard tuxedo. This dress wasn't just a fashion statement but also held sentimental value to Billy.
"We were certainly interested in playing with this aspect of masculine vs. feminine," his stylist Sam Ratelle said. "What is gender? What does it mean? What is masculinity? What is femininity? And Christian [Sariano, the designer of the tuxedo dress] thought it would be really chic to do this tuxedo look on the top and ballgown on the bottom."
Ratelle cited Renoir's "Madame Georges Charpentier and her Children" as the inspiration behind the outfit, but fans were quick to point out the tribute to ball legend Hector Xtravaganza. Ratelle said, "To be honest, we didn't know at first [about the similar look]," Ratelle clarified. "But we are so honoured by that. Any time we could pay our respects to Hector, it's an honour." Could anything top it? No. Absolutely not. But there was a close second…
Selam Blair
I just HAD to leave the absolute best moment of the night for last. This moment gave me the chills watching it online. This moment was the reason behind this whole post in general because this woman deserves
Blair went public on her MS (Multiple Sclerosis) diagnosis on her Instagram back in October.
As cameras clicked and photographer shouted commands at Selma, it was evident that she was worried about her balance as she looked all over the place, clutching her custom-made cane. The photographers might not have seen that Selam Blair was worried about her balance, but looking back, it was so obvious.
She broke down into tears, saying "It took so much to come out", and the photographers, along with the public, applauded her for her courage, giving her a boost in confidence.
And can we talk about her dress?! She had a chiffon cape everybody. And her cane, as said before, it CUSTOM-MADE. Slaying to the gods and beyond! A true icon and hero.
She then sat down for her first-ever interview since the diagnosis. She marched through the interview like a true trooper, even in the middle of a flare-up!