Introducing another one of my new series for 2018: monthly favourites! This is where I describe how my month went, kind of like how I did with my #ClaireNotes last year, but with more general things that you may know about! I hope you enjoy! Let me know what your favourites from August were!
BEAUTY
My beauty grail this month was the stay all day 16h long-lasting concealer in the shade 20 Soft Beige. I have been having very bad breakouts lately so I used this concealer to cover them and also the 'bags' underneath my eyes – blame long nights of working on assignments for that!
FASHION
I haven't really been out much apart from grocery shopping and lectures, nd have been wearing clothes from ages ago; that's how uneventful this month was!
ENTERTAINMENT
TV
SAME AS JULY! The series just wrapped its first season (and last?) and the plot twist at the end… and the suspense… WOOOW!
I am currently in love with Sharp Objects. It is based on the book with the same name by Gillian Flynn. Name sounds familiar? She also wrote Gone Girl and Dark Places. The series follows Camille Preaker, played by Amy Adams (of Enchanted fame) a newspaper journalist who must return to her hometown to report on a series of brutal murders.
FILMS
This month I rewatched the classic and iconic 80s movie that is Back to the Future I and it was as good as I remember it as a child. The humour, the chemistry between Marty (played by Michael J Fox) and Doc (played by Christopher Lloyd), the SFX… considering the time period it was filmed in, it was absolutely stunning!
And the car used… holy mama cheeks!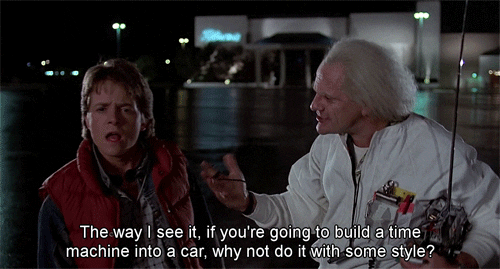 CELEBS
See June Favourites #7 because it's remained the same!
MUSIC
KAISER. CHIEFS.
At the time of writing this post, I'd be yet to see them live. But by the time the post is published, I'd be with a sore throat from all the screaming, fangirling and singing!
I have been a big fan since I was 11 and they've made me fall in love with indie rock even more. I cannot wait to see what's in store…! Expect a post full of photos later this week!
---