Greetings everyone! For this post, as the title and banner both indicate, I will be doing a roundup of the first half of the year because can you actually believe we're MORE than halfway through 2018?! I can't for sure! So let's take a look at the ups and downs in terms of my personal and blogging life…
I rang in the new year with my boyfriend and his friends as we watched the fireworks in the capital city. Personally, January was filled with bringing to life a new year full of love and health.
The first post of 2018 was the 2018 New Year's Resolutions for Bloggers, with its follow-up New Year's Resolution for People with Mental Health Problems/Illnesses. I also started two new series: BeYOUtiful, where I take a look of my week by answering questions, and the discontinued Map my Style. I also started my Monthly Favourites, where I take a look at my favourites of the month (a no-brainer series for  blogger). The first person I decided to Dim the Spotlight on was Heath Ledger.
My second favourite month after december… my BIRTHDAY MONTH! It was also my busiest month since my students had their half-yearly examinations. I didn't post as much as I'd wanted to because between my and my boyfriend's birthdays [interesting factoid: our birthdays are a day apart! He's a year older than me though].
The first post I put up on my blog this month was Marzia's Sweet Box – UNBOXING #2. I even posted my most disatrous review of a product so far:, and it's actually one of the most popular posts on my blog!? My favourite post for the month was Mental Health Stats. I enjoyed doing the research and put my two cents of the whole stigma thing.
This is where the exciting stuff for my life and blog started happening…! This is the month I decided to give kickboxing a try, but yeah THAT happened and I failed after 3 sessions. My body ached so badly once a week was still torture for me! This is also the month in which I decided to tell the whole world about my alcohol abstinence and that really got great feedback, so thank you so much for taking your time with reading the article and supporting me in this journey!
On Women's Day, I posted about the women who inspire me to be a better person. I also wrote a letter to my younger self and talked in depth about my insecurities; both these posts were my absolute favourite to write about, couldn't pick just one!
The month where I dabbled more into fashion-related posts, like this ridiculous one where I shared my opinions on SS18 trends but I also wrote the heartfelt IF YOU FEEL UNWORTHY, THEN READ THIS. I wrote it at a time where I was at risk of relapse, and wanted to get back up by making my readers – you – feel better with your lives even in the darkest of times.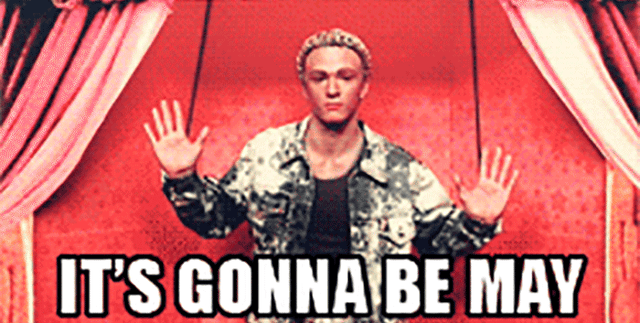 Sorry, had to!
But this month had four really great articles, which speak for themselves:
The biggest highlight of the month HAD to be finishing the scholastic year, because I was so fed up of the ish happening at work that I needed to get out of there! I also got a mini viral moment when almost all local influencers mentioned in my Malta Fashion Week article mentioned me on social media. Proudest moment of my LIFE!
So this was the first half of the year! Expect part two sometime in late December 2018/early January 2019! Keep lit, stay strong always XXX