London baby!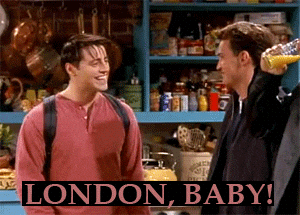 My most anticipated holiday to date has to be this one. It had been planned and booked for over a year! One week in London, jam-packed with fantastic events and banter (knowing me) with my bestfriend of 12 years.
The downside? Being at the airport at 4 in the morning. Yeah, I am not a morning person. But there were some upsides!: seven days with my bestfriend in the whole world. And shopping. And musicals. And souvenirs!
BFF's Birthday in London
Why the Cursed Child poster, you may be wondering…? Well, because we booked to see both parts of the play on her birthday!
I cannot share any details on the play itself (#keepthesecrets), but let's just say it was beautiful and the transitions from one scene to another were out of this world and… dare I say… MAGICAL!
Brighton
The day before Cursed Child we went to Brighton. We attended an event called Pop Up Pug Café which you can assume what it was all about.
After the Café we caught the bus to the Royal Pavilion…
… and then headed to the amazing Brighton Pier, which was a lifelong dream of mine to visit.
You can tell the weather wasn't in our favour, but we still had the greatest time!
---
Would you like a post on my week in London? Let me know in the comments' section below!